Energy Transition Factbook for policy makers launched at CEM13
22 September 2022- Pittsburgh, PA : As part of the annual Clean Energy Ministerial meetings held in Pittsburgh this week, BloombergNEF (BNEF) has released an Energy Transition Factbook to graphically highlight how the world is progressing toward lower-carbon energy sources. This is an update of the annual publication undertaken by BloombergNEF in previous years.
The 48-page report leverages BNEF's research on power, transportation and industry, while detailing various investment trends. It has been released in partnership with the Clean Energy Ministerial and Bloomberg Philanthropies to provide a useful fact set to guide discussions among energy ministers gathering in Pittsburgh. Highlights range from investment trends, to the status of clean technology deployment.
Download the complete report here.
Energy transition investment among Clean Energy Ministerial members surged to a new high in 2021
Between them, the members of the Clean Energy Ministerial attracted $705 billion in investment for energy transition technologies in 2021 – a new record. This marked a 32% jump from $533 billion invested in 2020, which had been the previous record, and included major investment in renewables, power storage and electric vehicles. Collectively, the members account for 90% of all energy transition investment worldwide. Among individual CEM members, China continues to attract the most investment, followed by the US and Germany. Investment in China spiked 69% year-on-year to $297 billion. Investment also jumped in the US (22% to $120 billion) and Germany (25% to $48 billion).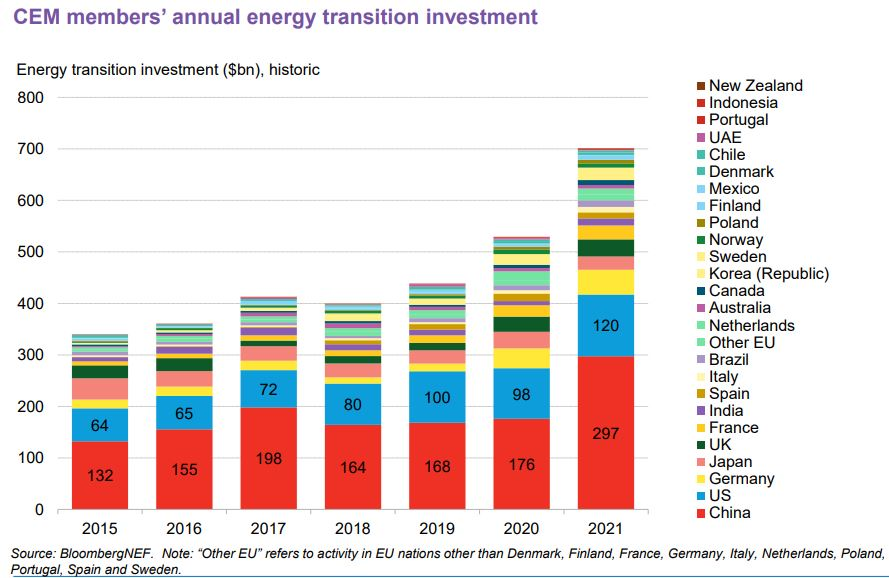 About BloombergNEF
BloombergNEF (BNEF) is a strategic research provider covering global commodity markets and the disruptive technologies driving the transition to a low-carbon economy. Our expert coverage assesses pathways for the power, transport, industry, buildings and agriculture sectors to adapt to the energy transition. We help commodity trading, corporate strategy, finance and policy professionals navigate change and generate opportunities.
Download the complete report here
For more information access the BloombergNEF website here.