Carbon Capture Utilization and Storage

Goal
Ensure that the potential of CCUS to reduce CO2 emissions from energy and industry is fully utilised.
Overview

The objective of the CCUS Initiative is to accelerate CCUS as a viable CO2 mitigation option, facilitate diffusion of knowledge on technologies, regulations, and policies, and lead to strategic partnerships to accelerate both near and longer-term investment in CCUS. As an action-oriented platform, the Initiative does not perform analysis, but serves to bring government, industry and the financial and investment sectors together.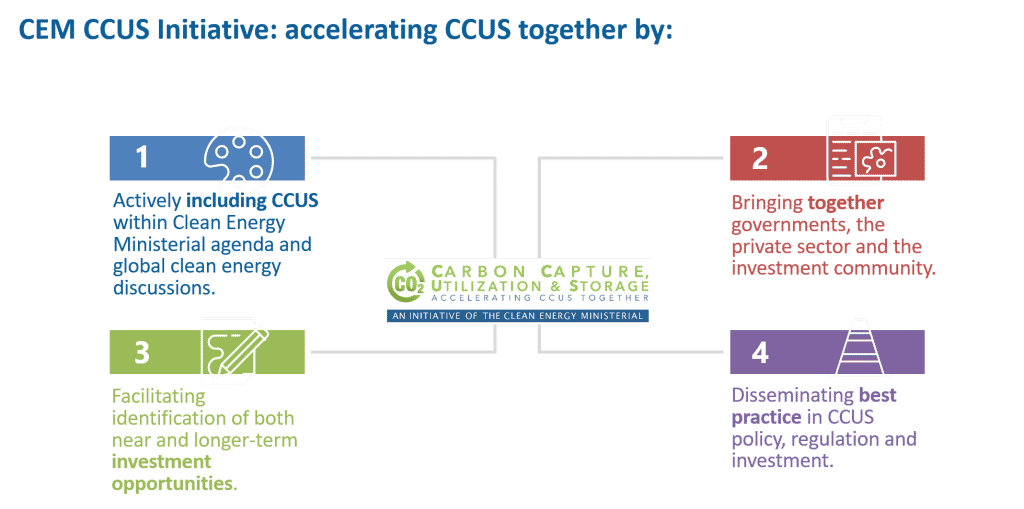 ---
Activities
INVESTMENT AND FINANCING
Goal
We bring latest knowledge on technology and especially government policy to a wide range of finance sector players, via the meetings of our "Finance Sector Lead Group for CCUS". We engage with multilateral development banks (MDBs), commercial banks and various other financial institutions to help them position CCUS in their energy investment policies and development strategies.
In 2020, the group produced the Key Financing Principles for CCUS report for CEM11.
How to Join?
If you are an interested government, industrial organisation or financial institution and want to know more about our activities, please contact info@cemccus.org
ACCELERATING CARBON CAPTURE WITH INDUSTRY
Goal
Our ultimate goal is to accelerate the uptake of CCUS solutions across all relevant sectors and in all interested countries. We work together with industry to identify strategic CCUS opportunities, by bringing government, industry and finance sector representatives together. Our collaborative activities span primarily the oil and gas, cement, steel and power sectors; however any industry interested in carbon capture is welcome to contact us and we can see how we can help.
KNOWLEDGE SHARING
Goal
We want to learn from each other's best practices, in order to improve the policy approaches within our member countries. Through monthly members' meetings, we brief each other on recent developments and main lessons from approaches taken. We also run public webinars and events, to disseminate best practice beyond our membership.
---
---
---
---
Join us
---