Clean Energy Workforce Preparation for an Inclusive Green Economy: Policies and Programs
14 June 2023
Virtual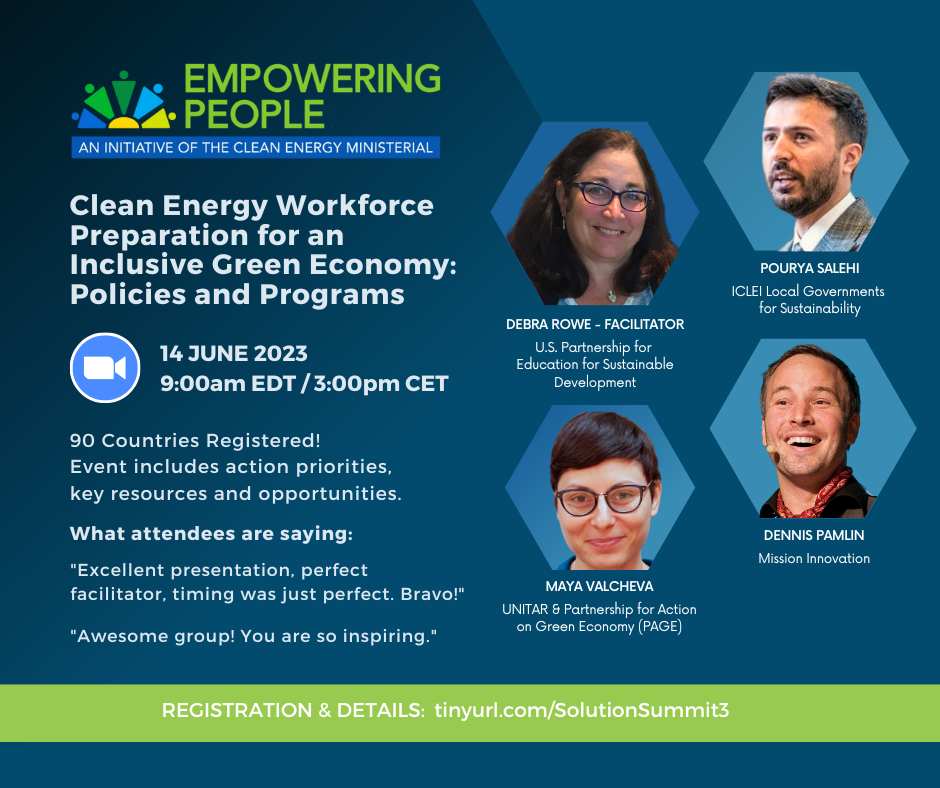 The Empowering People Initiative (EPI) invites you to a Solution Summit. By attending, you will hear from experts and receive key resources and opportunities to support the successful transition to a clean energy economy. Over ninety countries are participating. The information is crucial to reduce the worst impacts of climate change.
14 June, 9:00am Eastern (3:00pm CET)
The meeting will last for 1.5 hour(s), including networking time.
This Summit will include useful policies, programs, and strategies to help governmental staff and implementer organizations prepare their countries for a robust clean energy economy with a skilled workforce.
Please forward this whole email to:
governmental staff at the following areas or ministries in your country:
education, labor, industry, economic development, and social affairs and well-being. Staff not included in workforce or green economy issues are
welcome to foster coordinated efforts.
allied stakeholders from industry, labor, nonprofits, education plus local governments to help accelerate implementation.
colleagues from other countries since the event is open to all countries.
After the event, attendees will be able to accelerate more comprehensive workforce and green economy policies and programs. Please reply to DebraRowe@aya.yale.edu with any questions.
---