Super-Efficient Equipment and Appliance Deployment (SEAD)

Goal
The SEAD Initiative works to rapidly accelerate the energy efficiency of appliances. It brings together governments, manufacturers and other organisations to strengthen appliance efficiency policies. It does this by sharing knowledge, providing research, supporting policy, and driving ambition.
Overview

The SEAD Initiative is a joint CEM Initiative and Energy Efficiency Hub Task Group. It promotes the manufacture and sale of energy-efficient appliances, lighting, and equipment worldwide. It is coordinated by the International Energy Agency.
At its core, SEAD is about governments working together to reduce energy use, bills and emissions. It does this by turning knowledge into action, to help transform the global market for energy-efficient products.
SEAD's 25 member governments collaborate to strengthen appliance policies and implement them quickly. These policies are a proven, cost-effective way of lowering consumer energy bills. In doing so they also increase the resilience of economies. They are often the lowest-cost tool for governments to achieve significant emissions reductions.

Read more about SEAD in the 2-page factsheet (pdf)
---
Activities
Product Efficiency Call to Action
The Goal
To double the energy efficiency of four key products by 2030
Together, these account for over 40% of global electricity demand.
Doubling the energy efficiency of these products would bring substantial energy demand savings, avoid greenhouse gas emissions, promote business innovation, and ensure consumer access to affordable and high-performing technologies. To do this, in 2021 the UK and the IEA launched the Product Efficiency Call to Action, the largest ever international initiative on appliance energy efficiency.

Read the Product Efficiency Call to Action Frequently Asked Questions (pdf)
The Call to Action has five main goals
Set countries on a trajectory to double the efficiency of key products sold globally by 2030
Support the delivery of crucial national climate change targets
Provide consumers and businesses with more efficient products that are affordable and cost-effective to own and operate
Stimulate innovation and provide businesses with increased market and export opportunities
Promote a dual course of action, making products both energy efficient and climate friendly by reducing the use of refrigerants in cooling appliances
SEAD aims to achieve these goals by actively engaging with Members, manufacturers, financing bodies and a range of other stakeholders.
Through the Call to Action, SEAD works with Members to develop energy performance ladders, a tool for raising policy ambition on appliance energy efficiency.

Go to 'Efficient policies' above to learn more about energy performance ladders
Recognition for SEAD and the Call to Action
During COP26, forty-one countries launched the Breakthrough Agenda – a commitment to work together internationally this decade to accelerate the development and deployment of the clean technologies and sustainable solutions needed to meet the Paris Agreement goals. SEAD was identified as one of the leading initiatives for international collaboration as part of government commitments to Breakthrough Power. The SEAD Initiative was also mentioned in the 2021 and 2022 G7 commitments to action and in the G7 Communiqué by Environment Ministers. In the communique the G7 endorsed the SEAD goal of doubling the efficiency of four key energy-using products sold globally by 2030: lighting, residential cooling, residential refrigeration and industrial electric motor systems.
Call to Action participating countries
As of November 2023, 15 SEAD members have endorsed the Joint Statement on the Product Efficiency Call to Action:

Read the joint statement on the Product Efficiency Call to Action (pdf)

Contact the SEAD Coordinator
Efficient Policies
SEAD encourages member governments to set ambitious appliance energy efficiency policies.
Energy efficiency policies are most effective when they are developed and implemented in a coordinated way. There are three types of appliance energy efficiency policy. Together these form an appliance policy package.

The Energy Performance Ladder
Effective appliance policy should become more ambitious over time, to constantly improve energy efficiency. To help governments achieve this, SEAD works with government to develop energy performance ladders. Ladders are a simple visual policy tool that bring together different appliance efficiency policies under a single consistent set of thresholds.

Read more about the energy performance ladders by downloading the SEAD briefing slides (pdf)
A government can create a ladder for any appliance sold in its market. Each ladder step represents a level of energy efficiency corresponding to a policy threshold.
The lowest step is a MEPS level, with less efficient products being banned.
Middle steps are thresholds for consumer efficiency labels (e.g. G to A, moving upwards).
Upper steps are efficiency thresholds for incentives like grants or tax rebates.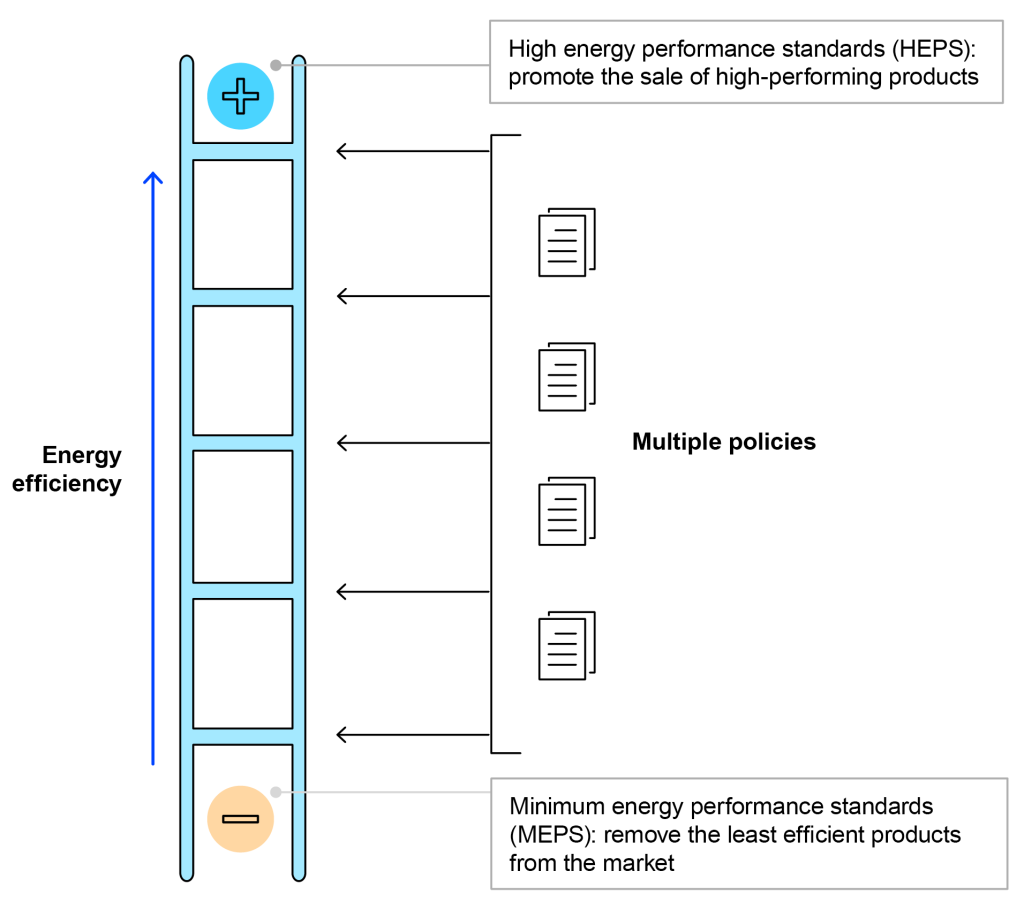 Setting a ladder helps governments and manufacturers by:
Showing a clear trajectory for improving efficiency over time. Ladders show how policy will move up the ladder in future.
Benchmarking energy performance across markets. They allow policy to be compared in a consistent way. They also allow governments to set policy that is suited to local market conditions.
Aggregating markets. Consistency between markets reduces operational costs. It also increases the customer base of high-performing products.
SEAD Efficient Product Focus
As part of the Product Efficiency Call to Action, the SEAD Initiative is focusing on four types of products that together account for over 40% of global electricity consumption.
SEAD is also currently supporting members on other priority appliances.

In the past, SEAD has worked on a wide range of other products and equipment.
---
Member countries and organisations
---
---
Coordinator
---
---
---
---
---
---
---
Past affiliated campaigns
Lighting accounts for 15% of the global electricity consumption — more than the electricity generated by all the nuclear power stations in the world — and 5% of worldwide greenhouse gas emissions. An overnight global transition to highly efficient lighting could avoid more than 800 million metric tons of CO2 emissions, equivalent to displacing 684 coal-fired power plants for a year.
At CEM6, 12 countries and the European Commission came together to launch the Global Lighting Challenge (GLC) – a global race to push the global market toward cumulative global sales of 10 billion high-efficiency, high-quality, and affordable advanced lighting products, such as LEDs.
Since its launch, the GLC built a public-private volunteer coalition of more than 60 governments, manufacturers, retailers, and expert groups working together to accomplish its 10 billion product goal.
The GLC put market actors on the same side of the climate change project by promoting businesses who make commitments, and showcasing governments who make endorsements.
At CEM8, the GLC announced that it exceeded its 10 product goal with commitments to deploy 14 billion high efficiency, high quality lighting products!
Since its launch, the GLC built a volunteer coalition with more than 60 governments, manufacturers, retailers, and expert groups working together to accomplish its 10 billion product goal.
The GLC was originally inspired by India's Unnat Jyoti by Affordable LEDs for All (UJALA), which is working to deploy nearly 800 million LED lights to residents throughout the country. Competitive bidding by manufacturers who participate in the UJALA program has led to sales of over 150 million certified LED bulbs and has brought the price per bulb in India down to less than $1 per bulb.
The GLC has inspired significant efforts to take up the challenge, leading to significant impacts and successes.
UrbanVolt met their commitment two years ahead of schedule, to convert 1 million inefficient lights.
Philips Lighting announced its aspiration to sell more than two billion energy efficient LED lights by 2020. Reaching this goal would save energy equivalent to decommissioning 60 medium-sized coal-fired power stations with emissions equivalent to 24 million cars.
The Vatican endorsed the GLC in a letter to the CEM. Monsignor Marcelo Sánchez Sorondo, Chancellor, Pontifical Academy of Sciences and Pontifical Academy of Social Sciences wrote, "I want to call out and commend the Clean Energy Ministerial's Global Lighting Challenge, which is working to deploy 10 billion energy saving LED light bulbs as quickly as possible. Success in this challenge can significantly decrease energy consumption around the world while at the same time increase access to modern lighting services for the poorest of the world."
As a model for future success, Sweden launched its national lighting campaign in 2016. The potential for reduced energy consumption from lighting in Sweden is estimated to be 6-7 TWh (out of a total 14 TWh that is used for lighting each year). Through close collaboration with public and private sectors, including retailers, all government levels, and other actors, Sweden aims to reduce the nation's electricity demand for lighting by half by 2020.
The GLC laid the groundwork to build future public-private partnerships as a mechanism to increase deployment and uptake of energy efficient appliances, and more. The GLC retired at CEM9 in 2018, but the lessons we have learned can be applied for years to come.
Improving the average efficiency of air conditioners sold in 2030 by 30% compared to today's models would reduce emissions of carbon dioxide (CO2) by up to 25 billion metric tons over the lifetime of the equipment. This reduction is equivalent to wiping out the annual emissions of 1,550 coal-fired power plants. High-efficiency room air conditioners would also reduce peak electricity demand by as much as 790 gigawatts. Energy-efficient air conditioners that use refrigerants with a low global warming potential (GWP) would double the climate benefit of a refrigerant transition alone and help clean the air in our cities.
The Advanced Cooling Challenge (ACC) urges governments, companies, and other stakeholders to make, sell, promote, or install super-efficient air conditioner or cooling solutions that are smart, climate friendly, and affordable. The campaign seeks commitments, supporting actions, and endorsing statements from energy and related government agencies, public sector organizations, manufacturers, retailers, institutional buyers, and foundations.
Since its launch at CEM7, the Advanced Cooling Challenge achieved commitments to:
Increase innovation and adoption of improved cooling technologies
Invest over $1.4 billion in air conditioner efficiency and clean refrigerants
Advance policy development in over 20 countries around the world
At CEM8, the ACC unveiled the Global AC Market Tracking Tool. This tool tracks the availability of air conditioner products based on energy efficiency, refrigerants, costs, and size metrics in member countries—most relevant in the Indian, Chinese, and Saudi Arabian markets.
At CEM 9, Mexico hosted, with support from China, the IEA, and K-, a side-event on "Delivering Sustainable Cooling in a Warming World".
---
Join us
For all enquiries about joining SEAD, please contact sead@iea.org.