5th Clean Energy Ministerial (CEM5)
From 12 May to 13 May 2014
Seoul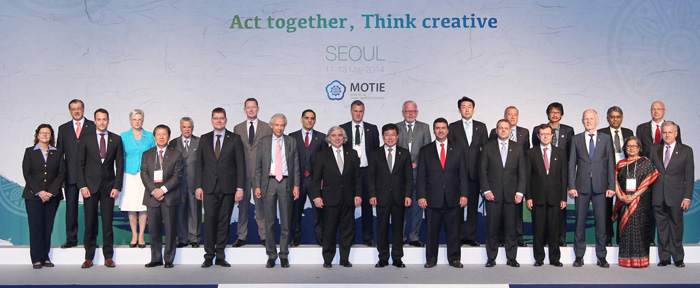 The fifth Clean Energy Ministerial (CEM5) was held in Seoul, Republic of Korea, on 12–13 May 2014 under the theme "Act Together, Think Creative." Energy leaders from the world's largest economies and others gathered to strategize next steps in their efforts to accelerate the deployment of clean and efficient energy. The two-day meeting was characterized by constructive and collaborative discussion among the delegations and ended with a clear commitment to renew and extend the Clean Energy Ministerial.
Ministers and senior officials from Australia, Brazil, Canada, China, Denmark, the European Commission, Finland, France, Germany, India, Indonesia, Italy, Japan, Korea, Mexico, Norway, the Russian Federation, South Africa, Sweden, the United Arab Emirates, the United Kingdom, and the United States attended the meeting. The Minister and a delegation from the Kingdom of Saudi Arabia also attended CEM5 in an observer role. Representatives from the International Energy Agency, the International Renewable Energy Agency, and the International Partnership for Energy Efficiency Cooperation were also present as official observer organizations.
Scene Setter
Before the official start of the meeting, delegates observed a moment of silence in memory of the many lives lost in the Sewol ferry disaster.
Yoon Sang-jick, Korea's Minister of Trade, Industry and Energy, welcomed Ministers and delegates in the opening plenary, noting the achievements of the Clean Energy Ministerial (CEM) and calling for increased efforts to accelerate technology innovation and market creation for clean energy. U.S. Secretary of Energy Ernest Moniz noted in his opening comments the importance of both energy security and climate change as integral to the ministerial discussions on clean energy.
A special message form Ban-ki Moon, the Secretary-General of the United Nations, was also delivered, noting that "Sustainable energy is the golden thread that connects economic growth, increased social equity and an environment that allows the world to thrive."
Maria van der Hoeven, Executive Director of the International Energy Agency presented the 2014 Tracking Clean Energy Progress report, prepared for CEM5. An area of concern noted in the presentation was the "relentless increase in coal production," which has led to the global carbon intensity of energy production remaining the same, even as the deployment of low-carbon technologies has increased. On a positive note, van der Hoeven highlighted that clean energy is now a global business, and one that emerging economies are recognizing for their economic and energy security interests as well as for citizens' welfare and greater access.
Nathaniel Bullard, Director of Content for Bloomberg New Energy Finance, presented data on global investments in clean energy. Although he noted that investment has declined more than 20% since its 2011 peak, 2013 and 2014 are seeing a return to growth trends. He also highlighted some emerging disruptive trends in clean energy investment.
Ahn Nam-sung, President of the Korea Institute of Energy Technology Evaluation and Planning, presented on 10 potential breakthrough energy technologies, which ranged from high voltage direct current to advanced energy storage and biofuels.
---