Energy Transition Factbook launched at CEM14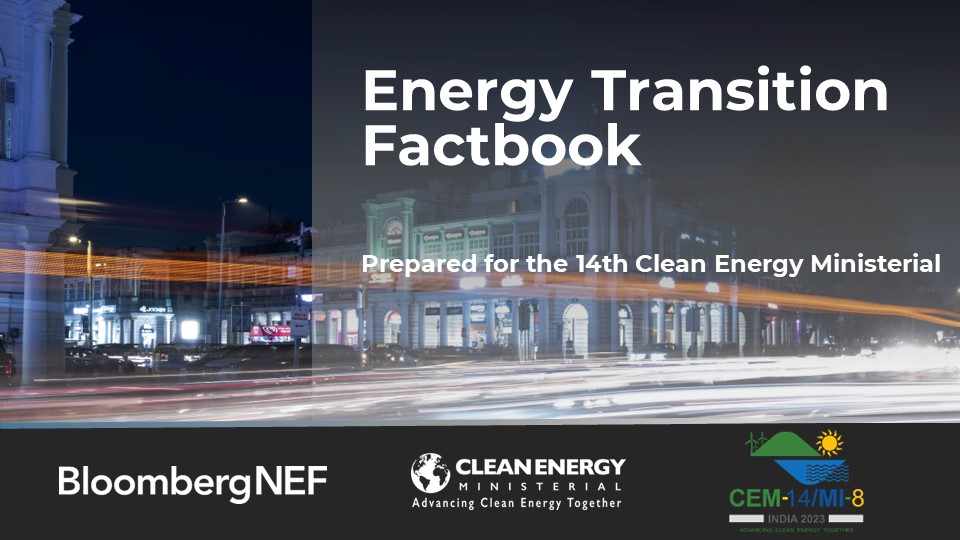 21st July 2023 – Goa, India:
As part of the annual Clean Energy Ministerial meetings held in Goa this week, BloombergNEF (BNEF) has released an Energy Transition Factbook to graphically highlight how the world is progressing toward lower-carbon energy sources. This is an update of the annual publication undertaken by BloombergNEF in previous years.
The 62-page report leverages BNEF's research on power, transportation and industry, while detailing various investment trends. It has been released in partnership with the Clean Energy Ministerial to provide a useful fact set to guide discussions among energy ministers gathering in Goa.
Energy Transition investment in CEM members surged over 1$ trillion in 2022.
Between them, Clean Energy Ministerial members, including the European Union, attracted $1 trillion in investment for energy transition technologies in 2022 – a new record. This marked a 34% jump from the previous record of $760 billion, reached in 2021, and included major investment in renewables, power storage and electric vehicles. Collectively, the members again account for 91% of all energy transition investment worldwide.
About BloombergNEF
BloombergNEF (BNEF) is a strategic research provider covering global commodity markets and the disruptive technologies driving the transition to a low-carbon economy. Our expert coverage assesses pathways for the power, transport, industry, buildings and agriculture sectors to adapt to the energy transition. We help commodity trading, corporate strategy, finance and policy professionals navigate change and generate opportunities.
For more information, visit their website.