Policy Programs and Their Impact to Increase the Deployment of Clean Energy Solutions in the Latin American Region
9 March 2023
Virtual
Webinar
As countries continue to drive towards clean energy, Latin America is uniquely posed to implement policies and measures that increase clean energy deployment. Unleashing the potential of this region is imperative to achieving sustainable development and building capacity for innovation.

Brought to you by the Clean Energy Solutions Center, this webinar will share policy programs in the Latin American region and their impact on increasing and/or improving the deployment of clean energy solutions.

Several subject matter experts will present on country-level policy programs in the region, challenges faced, lessons learned, and future opportunities to accelerate clean energy deployment. The event will end with a Q&A session with the audience.
Speakers include:
• Sean Esterly (Moderator) – National Renewable Energy Laboratory
• Daniella Rough – National Renewable Energy Laboratory
• Joyce Mendez – SDG7 Youth Constituency
• Jairo Gutierrez – Tetra Tech
• Camila Ramos – Clean Energy Latin America
• Johanna Koolemans-Beynen – United States Energy Association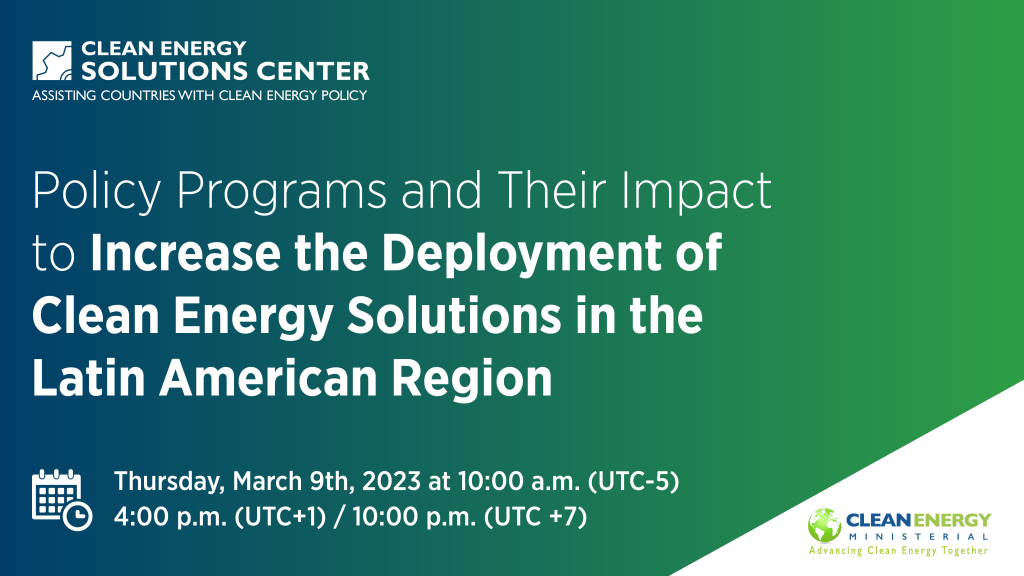 ---