CEM at COP28
From 30 November to 10 December 2023
Dubai
As the world comes together at COP28 hosted by the United Arabs Emirates to take stock of actions to date to address the pressing challenges of climate change, we are committed to serve the role of implementation platform for the deployment of clean energy solutions and to provide concrete demonstration of how multilateral collaboration can provide the necessary tools for increased climate ambition.
The CEM community is gearing up to unveil exciting announcements, commitments and launches at the several events organized by our workstreams and partners featured throughout the COP28 programme, to showcase the value of the workstreams as ready-made action coalitions offering concrete, actionable solutions to deploy clean energy at scale.
We will also use the opportunity to amplify and echo key messages, priorities, and commitments from all pour partners, to ensure that our joint call for clean energy deployment reaches the global stage. The CEM is dedicated to maintaining political momentum on clean energy issues throughout the year, linking our yearly Ministerial discussions to various high-level political events to foster ongoing collaboration and commitment to the clean energy agenda.
Our Events:
11:00-11:50, Large Scale Deployment of Super-Efficient Appliances for Cooling and Doubling of Efficiency Progress
Description: Super-efficient cooling appliances, such as air conditioners, have the potential to revolutionise energy consumption patterns, significantly reduce electricity bills, and curtail carbon emissions. The "SEAD: Large Scale Deployment of Super-Efficient Appliances for Cooling and Doubling of Efficiency Progress" side event aims to advance the global energy efficiency agenda, taking a deeper dive into cooling appliance policy as a tool for accelerating clean energy action.
Location: The Saudi Pavilion
---
14:00-15:00, High-level launch of the new CEM initiative "Supercharging Battery Storage Deployment"
Description: Launch of the new CEM initiative "Supercharging Battery Storage Deployment", which will aim to boost stationary battery storage development and deployment and reduce technology cost, through international cooperation and alignment as appropriate, to build a diversified, sustainable, responsible, secure and transparent supply chain, to promote grid stability and reliability and to support the integration of renewable energy globally.
Location: MR12 South Hall room, blue zone
---
15:30-16:20, Future Fuels Accelerator
Description: Reducing emissions from aviation, maritime, and heavy industry requires the use energy-dense, low-emissions molecular fuels such as ammonia, hydrogen, methanol, and renewable hydrocarbons. This event will explore and define actions that G20/CEM countries and Initiatives can and should take to enable increased production and use of renewable, low-carbon fuels across their many uses.
Location: The Saudi Pavilion



09:00-10:00, CCUS: a Key lever to decarbonize the global cement sector
Description: The Cement sector is responsible for 6-7% of global CO2 emissions. Carbon management is a vital decarbonization lever for the industry. At this opening event of the series, industry's current plans and main challenges for CCUS deployment are presented and discussed. Government policy views are also presented.
Location: Global Cement and Concrete Association Pavilion

---
15:30–16:20, Technological Carbon Dioxide Removal: a key tool in the climate change toolkit
Description: Carbon Dioxide Removal, CDR, is a key part of the climate change mitigation toolkit, enabling large-scale removal of CO2 from the atmosphere on the road to our net-zero future. Technological CDR approaches such as DACS and BECCS have rapidly advanced over the past years, however they remain costly and therefore significant cost reduction challenges remain. Simultaneously, a specific policy and incentive structure is required to drive removals of CO2, including robust measurement, reporting and verification. At this event we bring expert speakers together to discuss the state of play with technological removal technologies, the outlook for their deployment and the market mechanisms that can help incentivize high-quality removals. The event is co-hosted by CEM CCUS Initiative and Mission Innovation CDR Mission.
Location: The Saudi Pavilion

09:00 – 10:00, Creating CO2 storage and transport infrastructure
Description: The availability of CO2 transport and storage infrastructure is a key prerequisite for effective CCUS deployment in the cement sector. In this panel the issues of infrastructure buildout and strategic CO2 hubs are discussed. How can hubs best serve the global cement sector?
Location: Global Cement and Concrete Association Pavilion

---
10:00-11:30, Transforming Solar: CEO-Minister Roundtable On Solar Manufacturing
Description: At CEM 2023 in Goa, the Transforming Solar Supply Chains Initiative released three policy briefs with concrete recommendations to address these challenges. This workshop will build on this work to further engage private sector stakeholders and policymakers, particularly with regard to international collaboration on supply chain development. The objectives of the session are:
to build support for fostering global resilient supply chains;
to provide concrete actions/objectives for policymakers; and
to further collaboration among international stakeholders.
Location: ISA Pavilion
Agenda:
9:00-10:00 GST (60 Minutes)
BREAKFAST NETWORKING (Optional for all Panellists and Speakers)
10:30-10:45 GST (15 Minutes)
WELCOME REMARKS  
– RK Singh, Minister, Power, New and Renewable Energy, India 
– David M. Turk, Deputy Secretary of Energy, United States
– Dr. Ajay Mathur, Director General, International Solar Alliance 
– Gauri Singh, Deputy Director General, IRENA 
– Mr Jean-Francois Gagné, Head of CEM Secretariat  
10:45-10:50 GST (5 Minutes)
PRESENTATION POLICY BRIEFS 
Cora Dickson, Department of Commerce, United States 
10:50-11:45 GST (55 Minutes)
PANEL SESSION   Moderator: Máté Heisz, Global Solar Council  Private Sector Participants 
– David Wilhoit, Wacker Chemical Corporation  
– Hitesh Doshi, Waaree Group  Vaishali Sinha, Renew 
– Jürgen Reinert, SMA  
– Richie Merzian, Smart Energy Council  
– Sultan Ali Sultan Juma Al Shamsi, Etihad Water and Electricity
– Kushla Munro, Division Head, International Climate and Energy, DCCEEW,
11:45-11:55 GST (10 Minutes)
SUMMARY AND CLOSING  
Dr. Ajay Mathur, International Solar Alliance  
11:55-12:00 GST (5 Minutes)
VOTE OF THANKS  
Kushla Munro, Division Head, International Climate and Energy, DCCEEW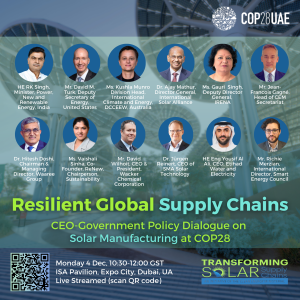 ---
16:00-17:20, Uniting Across Sectors To Catalyze A New Era Of Global Climate Talent
Description: Organized by the CEM Empowering People Initiative, the event will bring together representatives from the public sector, philanthropies and the private sector to have a panel discussion on mobilizing climate talent.
Location: Just Transition Pavilion
Panellists:
Maroš Šefčovič, Executive Vice President, European Commission
Allen Blue, Co-Founder, LinkedIn
Luis Alverado, Global Strategic Engagement Lead, Centre for Nature and Climate, World Economic Forum
Deeana Ahmad, Chief Strategy Officer, Our Next Energy (ONE)
Danny Kennedy, CEO, New Energy Nexus (NEX)
Charlie McElwee, Vice President of Programs, ClimateWorks Foundation
Annya Schneider, European Lead, Bloomberg Philanthropies
Jean-Francois Gagne, Head of Secretariat, Clean Energy Ministerial
09:00 – 10:00, Enabling policy framework to accelerate CCUS in the cement sector
Description: Finding financing for CCUS in the cement sector is going to be highly dependent on enabling policy frameworks set by governments. These frameworks will include, inter alia, national/regional CO2 emission reduction and decarbonization visions, economy-wide policies such as carbon pricing, specific incentives for carbon capture technologies and policies to create demand for clean products. This panel will discuss how such policy frameworks are being implemented and how they can be accelerated.
Location: Global Cement and Concrete Association Pavilion

---
09:30-11:30, Ministerial Roundtable on Hydrogen
Description: This High-Level Ministerial-CEO Roundtable on Hydrogen will mark the launch of the flagship COP28 initiatives designed to accelerate commercialisation of hydrogen projects facilitating the transition to net zero and unlock the climate and socio-economic benefits of cross-border supply chains. This roundtable will feature the launch of the flagship Declaration of Intent on Mutual Recognition of Certification Schemes for Hydrogen and Derivatives and the ISO methodology for GHG emissions assessment of hydrogen. Decision-makers and industry leaders will spotlight actionable commitments in an inaugural Public-Private Action Statement on Cross-Border Trade with the International Hydrogen Trade Forum.
Location: TBC

---
10:45-11:25, LTES: Aligning energy and climate strategies: Holistic planning for a clean energy future
Description: The objective of the event is to showcase a mapping of national energy scenarios and climate strategies for G20 countries that have an LTES, LT-LEDS and NDC. It is vital that policy messages resulting from these planning documents are aligned with each other. Energy and climate policy are becoming increasingly more interlinked, and misaligned messages from national authorities on each field can lead to uncertainty for potential investors in the energy transition.
Location: UAE Pavilion

---
13:30-14:30, Accelerating Green Demand of Heavy Emitting Sectors
Description: The IDDI member government representatives will announce renewed commitments and progress made towards the Green Public Procurement Pledge. A communique will be shared.
Location: Meeting Room 11, Blue Zone

---
16:30 – 19:00, Unlocking Decarbonization, Trade and the Global Market: Launch of the Steel Standards Principles
Description: The IDDI's representatives will present its new White Paper: Pathway Towards Harmonization of GHG Accounting Standards for Steel and Cement.
Location: Trade House Pavilion

09:00 – 10:00, Raising global ambition for carbon management: the Carbon Management Challenge
Description: The Carbon Management Challenge (CMC) is launched at COP on 5 December. The Challenge gathers a coalition of willing governments to drive carbon management technologies to Giga-tonne scale by 2030. At this event, industry, government and finance sector representatives will discuss the role and implications of the Challenge, and how stakeholders can best take part in and support the Challenge
Location: Global Cement and Concrete Association

---
13:00 – 14:00, Cutting Edge Fuels for Heavy Industry, Aviation, and Shipping
Description: De-fossilizing fuels for heavy industry and transport, including aviation and maritime, is fundamental to achieving Net Zero Emissions. This public panel discussion will explore progress in Bio-to-X and Power-to-X and distil lessons for countries and hard-to-abate sectors eager to produce and use cutting-edge fuels that complement hydrogen production and use. Panellists will discuss ways in which CEM Biofuture Platform Initiative countries and members of the Biofuture Campaign can work with industry and government officials to accelerate the immediate uptake of renewable cutting-edge fuels.
Location: Danish Pavilion

---
13:30 – 14:30, Introducing CEM's Supercharging Battery Storage Initiative: Priorities and Action Plan
Description: The primary objective of this event is to initiate a robust and inclusive dialogue among CEM members and other key stakeholders, fostering collaboration and synergy to overcome challenges in the widespread deployment of battery storage technologies. The event will feature a comprehensive discussion on priorities and plans that will guide the implementation of this groundbreaking initiative. By bringing together a diverse array of stakeholders, the event seeks to catalyse collective action and pave the way for a future where battery storage plays a pivotal role in advancing the global transition to clean and renewable energy sources.
Location: Australian Pavilion
---
15:30 – 16:20, Gulf Region countries – a global hotspot for carbon management
Description: The Gulf Region countries are in a unique position to rapidly scale up carbon management. The countries have a vital interest in reducing the carbon footprint of hydrocarbons, a large CO2 storage potential and a high level of existing industrial expertise in carbon management. CCUS or carbon management can enable clean hydrogen, clean steel and cement, as well as clean power in the region. Carbon Dioxide Removal (CDR) is also part of the potential toolkit. At this event, representatives from the countries in the region as well as expert organisations will discuss their strategies and action plans to deploy carbon management.
Location: Saudi Arabia Pavilion

10:30-11:30, Canada Empowering Youth to Take Action on the Energy Transition
Description: This session is focused on the central role jobs and skills will play in the fight against climate change/quest for net zero. As LinkedIn CEO Ryan Roslansky says, "Climate change is a human capital problem." LinkedIn's 2023 Green Skills Report has a few key findings:
Only one-in-eight workers globally has at least one green skills
The LinkedIn Hiring Rate for workers with a green skill is 29% higher than that of all workers.
Green jobs growth is happening twice as fast as green talent growth.
Earlier this year, Canada adopted the Interim Sustainable Jobs Plan, a crucial strategy that explicitly ties Canada's sustainability goals with economic goals. The plan was developed by Ministries of Labour, Climate Change, and Natural Resources, a type of cross-agency collaboration that is rare around the world.
Location: Canada Pavilion
12:00–12:15 Shaping the Future of Shipping Summit, Fireside Chat – Clean Energy Marine Hubs Initiative
Description: Shaping the Future of Shipping Summit will take place in the middle weekend of the main COP28 meeting on 9th & 10th December, in and around the Museum of the Future. Shaping the Future of Shipping will use COP28 to showcase shipping as a dynamic and leading hard-to-abate sector and will focus on the tangible progress being made in the maritime energy transition, highlight the work of cross-sectoral collaborations that can potentially change global shipping and share the lessons being learnt so the industry can move forward to deliver sustainable economic growth and profit. During the Summit, CEM Hubs initiative will host a fireside change to facilitate public-private dialogue.
Location: Museum of the Future, Dubai

9:00-18:00, Hubs event II, Museum of future (not part of COP), important (ceremonial)
12:00-XX:XX, Fireside chat "Collaboration is the Fuel of the Future – CEM Hubs Initiative" fireside chat
---