Power Sector Decarbonization Action Plan Series: Australia
31 October 2023
Sydney, Australia
Webinar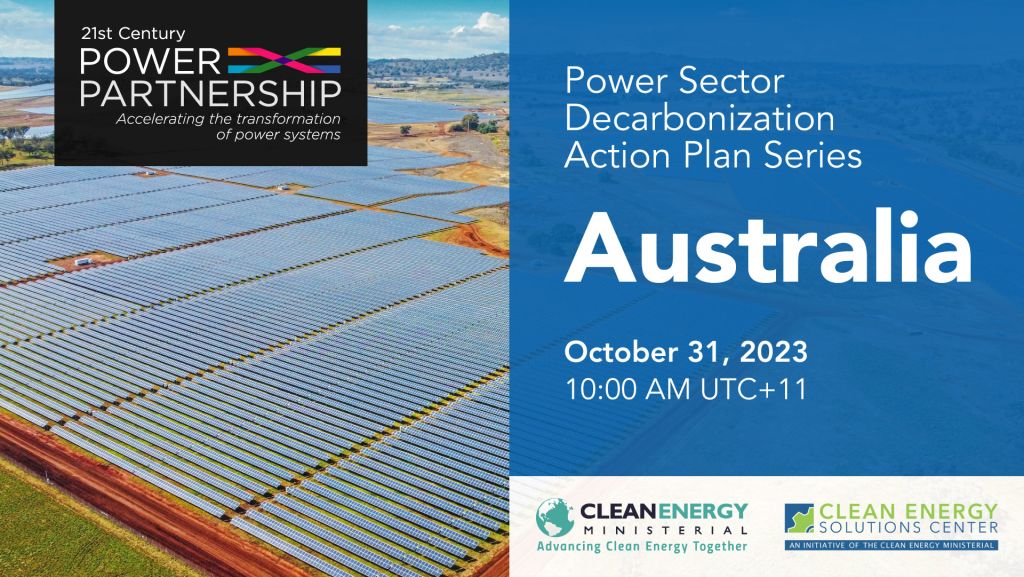 Date: October 31, 2023
Time: 10:00 – 11:00 AM UTC-11 (Australian Eastern Daylight Time)
Over the past year, Clean Energy Ministerial (CEM) workstreams provided support to countries around the world for the development of power sector decarbonization action plans. At CEM14 in Goa, India, the first cohort of countries – Australia, Chile, India, the European Commission, India, and the United Kingdom – released their action plans to accelerate power sector decarbonization and transformation in their countries.
Brought to you by the CEM's Clean Energy Solutions Center (CESC) and 21st Century Power Partnership (21CPP), the Power Sector Decarbonization Action Plan Series highlights these power sector decarbonization action plans and prospects for implementation.
This installment will focus on sharing Australia's Action Plan for power sector decarbonization, including their ambitions on transitioning to a renewable dominated grid, strengths in modernizing Australia's energy systems, and the systemic changes and technical challenges associated with this transition.
CSIRO will present on initiatives and projects that use a new generation of energy data and analytics to enhance energy forecasting and systems planning and improved network visibility with increasing integration of distributed energy resources and electric vehicles as Australia transitions towards net zero.
Energy Renaissance will explore the role that large-scale batteries play in providing backup power, reducing local communities and industry reliance on diesel generators and improving resilience to power outages.
The session will end with a Q&A with the audience.
Speakers include:
John McKibbin – Lead of Energy Networks Research, Commonwealth Scientific and Industrial Research Organisation
Sandra Choy – Assistant Director, Department of Climate Change, Energy, the Environment and Water
Brain Craighead – CEO, Energy Renaissance Pty Ltd
---