Back to CESC
Accelerating Adoption of Energy-Efficient Lighting, Appliances and Equipment: An Introduction to Proven Technology and Policy Solutions
25 July 2017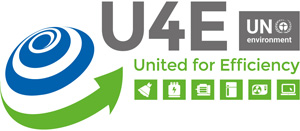 The Clean Energy Solutions Center, in partnership with UN Environment, hosted this webinar highlighting the findings of six new policy guides developed by the United for Efficiency initiative. The guides address indoor and outdoor lighting, room air conditioners, household refrigerators, electric motors and motor systems, transformers and fundamental policies that are applicable to all of these technologies.
Well over half of the world's electricity is consumed by the products addressed in these guides. Yet many developing and emerging economies are just starting to explore opportunities to transform their markets with energy-efficient products. A well-designed set of policies can greatly accelerate this transition, enabling them to leapfrog past outdated technologies to superior, cost-effective alternatives.
The aim is to give policymakers a basic understanding of technical, market and policy considerations so that they can enhance energy efficiency activities in their countries. The framing of each guide is based on United for Efficiency's Integrated Policy Approach, which is being successfully applied around the world. The content was developed with insights from top experts in industry, civil society, academia and international organizations.
Paul Kellett, United for Efficiency Programme Manager, UN Environment, introduced United for Efficiency and shared key findings from the Fundamental Policies Guide (to be published in September 2017).
Rolf Smeets, Residential Lighting Director, Philips Lighting, shared key findings from the Lighting Policy Guide.
David Manrique, Sustainability Development Leader, Mabe, shared key findings from the Air Conditioners Policy Guide.
Nathan Mouw, Global Product Safety and Regulatory Affairs Senior Director, Whirlpool Corporation, shared key findings from the Refrigerators Policy Guide.
Ajit Advani, Sustainable Energy Advisor, International Copper Association, shared key findings from the Electric Motors and Motor Systems Policy Guide.
Angelo Baggini, Professor of Electrical Engineering, University of Bergamo, shared key findings from the Transformers Policy Guide (to be published in August 2017).
Presentations were followed by an interactive question and answer session with the audience, guided by Giulia D'Angiolini, United for Efficiency – Energy Efficiency Expert, UN Environment.
Panelists
Paul Kellett
Paul Kellett Manages UN Environment's United for Efficiency programme, which is transforming developing and emerging markets with energy efficient lighting, equipment and appliances. Mr. Kellett has been involved in energy efficiency and renewable energy activities over the past 20 years. This includes 10 years of managing Irish Energy Centre programmes on industrial and building energy efficiency and as the Manager of the Irish National Renewable Energy Programme. In 2003, he received the European Energy Award for establishing the framework for 40 per cent renewable electricity generation in Ireland from a base of zero. Mr. Kellett has a degree in Mechanical Engineering from the National University of Ireland. He is a member of the Institute of Engineers of Ireland and of the American Society of Heating, Ventilation, Refrigeration and Air Conditioning Engineers.
Rolf Smeets
Rolf Smeets has over 25 years of experience in several branches of the lighting industry, and is Director of Global Public and Government Affairs for Philips Lighting. He is responsible for designing and implementing strategies aiming to increase awareness and adoption of sustainable lighting solutions, through networking with governments and NGO's, with a prime focus on the opportunities as created by the LED lighting revolution. Mr. Smeets was responsible for the launch of the first Philips LED bulb range for the consumer market in 2006. He was also instrumental in mass marketing campaigns for compact fluorescent lamps, contributing to the Philips Lighting global leadership in the market transition towards affordable, energy-efficient light sources for households. He holds an MSc in Industrial Engineering from the Eindhoven University of Technology.
David Manrique
David Manrique has extensive experience in the sustainability field, with a particular focus on technology transfer programs in Mexico. Mr. Manrique has designed, developed and implemented strategies around energy efficiency and renewable energy in the appliances sector. He has a bachelor's degree in Chemical Engineering and a masters' degree in Sciences in Operational Research on Energy Efficiency and Renewable Energy. Mr. Manrique leads sustainability efforts at mabe, a leading appliance company in Mexico and Latin America.
Nathan Mouw
Nathan Mouw has over 15 years of experience in the global home appliance industry, working on technical and policy matters. He has served in various roles in increasing levels of leadership, and he is the Senior Director of Global Product Safety and Regulatory Affairs at Whirlpool Corporation, the world's largest home appliance manufacturer. Mr. Mouw holds a masters' degree in Mechanical Engineering and a Master of Business Administration Degree.
Ajit Advani
Ajit Advani is an advisor to the International Copper Association (ICA) on topics related to energy efficiency, renewable energy and energy access. He is the lead author of the U4E Policy Guide on Electric Motors and Motor Systems. After earning a degree in Electrical Engineering from the Indian Institute of Technology – Bombay in 1978, he worked with Siemens in India and Germany over the next 27 years. Mr. Advani specialized in the design and execution of industrial automation solutions, and he headed the Industry and Infrastructure Projects and Services businesses of Siemens in India. In 2005, Mr. Advani joined ICA to serve as the lead for India and co-lead for Asia. Thereafter, he was tasked with the global leadership of ICA's Sustainable Energy Initiative. Mr. Advani serves as an advisor for sustainable energy activities around the world.
Angelo Baggini
Angelo Baggini is an aggregate Professor of Electrical Engineering at the University of Bergamo. He is also an International Consultant on energy efficiency, transformers, power quality and renewables. Dr. Baggini received his bachelor's degree (cum laude) in 1993 and his PhD in 1997 in Electrical Engineering from the University of Pavia. His thesis research work in the CESI Metrological Lab was awarded with the "AEI Stefano e Flora Badoni" prize by the Italian Electrical Association. Since 1997, Dr. Baggini has been a member of IEC Technical Committee 14 (power transformers). Since 2013, he has served as the chairman of CENELEC Technical Committee 14. He is the author of over 200 technical and scientific papers and of "PQ Handbook" (2008) and "Electrical Energy Efficiency" (2012), which was published by Wiley and Sons.