Back to CESC
IEA's Energy Storage Technology Roadmap
19 March 2014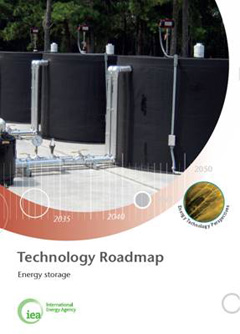 For more information about the roadmap publication, see the IEA Technology Roadmap: Energy Storage page.
View Webinar Content
Presentation—Introduction to the webinar and panelists
Presentation—Didier Houssin, Cecilia Tam and Melissa Lott: IEA Energy Storage Technology Roadmap Launch
Transcript—Webinar audio transcript
The Clean Energy Solutions Center, in partnership with the International Energy Agency (IEA), hosted this webinar to disseminate the findings from IEA's new publication "Technology Roadmap: Energy Storage," which looks at the role of energy storage technologies within our future energy systems.
Energy storage technologies can support energy security and climate change goals by providing valuable services in developed and developing energy systems. Energy storage technologies can improve integration of our electricity and heat systems and can play a crucial role in energy system decarbonisation by:
Improving energy system resource use efficiency
Helping to integrate higher levels of variable renewable resources and end-use sector electrification
Supporting greater production of energy where it is consumed
Increasing energy access
Improving electricity grid stability, flexibility, reliability and resilience.
This energy storage roadmap aims to increase understanding among stakeholders of the applications that electricity and thermal energy storage technologies can be used for at different locations in the energy system; provide a comprehensive discussion of the nature, function, and costs of energy storage technologies; identify the most important actions required in the short and long terms to successfully accelerate the development and deployment of energy storage technologies, and articulate actions to support progress toward short- (next 10 years) and long-term (by 2050) goals.
Panelists
Didier Houssin, Director of Sustainable Energy Policy and Technology at the International Energy Agency
Didier Houssin became Director of Sustainable Energy Policy and Technology at the International Energy Agency on 1 December 2012. Previously, he served for five years as Director of Energy Markets and Security. Before joining the International Energy Agency, Mr. Houssin, a French national, was Managing Director of BRGM, the French Geological Survey where, since 2004, he had extensive management responsibilities over the 850-strong group. Among other matters, he was involved at BRGM in carbon capture and sequestration and in geothermal energy. Prior to joining BRGM, Mr. Houssin was the former Director of Energy and Mineral Resources in the French Ministry of Economy between 1997 and 2004. Mr. Houssin graduated from the Ecole Nationale d'Administration and has a Masters in International Law.
Cecilia Tam, Head, Energy Demand Technology Unit, International Energy Agency
Cecilia Tam is Head of the Energy Demand Technology Unit at the International Energy Agency, where she also leads the IEA's Energy Technology Roadmaps Programme. Having joined the IEA in 2006, her work has covered technology roadmaps, finance, deployment and innovation, industry and energy efficiency. She has authored numerous IEA publications including Energy Technology Perspectives, Energy Technology Transitions for Industry, Transition to Sustainable Buildings, and a number of Technology Roadmaps. Prior to joining the IEA, Cecilia was a Senior Equity Research Analyst with Dresdner Kleinwort Benson where she covered Latin American electricity companies, working on various privatisations and equity offerings.
Melissa C. Lott, International Energy Agency
Melissa C. Lott has worked as an energy systems engineer and consultant for more than 10 years in the United States and Europe. Before joining the IEA, she was a Presidential Management Fellow at the U.S. Department of Energy. Ms. Lott has also worked on U.S. federal-level energy policy initiatives at the White House Council on Environmental Quality and on state-level activities in Texas and California. Ms. Lott specializes in technology, economic, and policy analysis, in particular related to power grids and energy system efficiency optimization. She is pursuing her PhD at the University College London's Institute for Sustainable Resources.