Back to CESC
Policies to Support Solar Power Deployment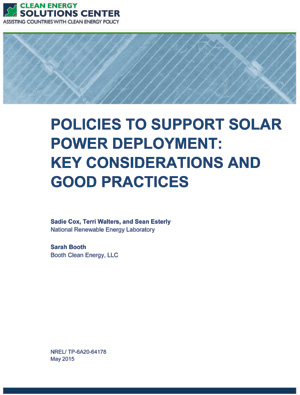 The Solutions Center's Solar Power: Policy Overview and Good Practices is part of the Solutions Center's Clean Energy Policy Briefs series.
As global electricity demand increases, governments are designing and implementing policies to scale up and catalyze renewable energy, which now meets 22% of global electricity demand (REN21 2014). Solar technologies are a critical component of this expanded deployment, and they have experienced unprecedented growth in recent years. Solar prices have decreased significantly over the last decade (REN21 2014) and in 2013, new capacity installation of solar electricity from photovoltaics (PV) surpassed all other renewable energy technologies worldwide—excluding hydropower—with 39 gigawatts installed that year. Concentrating solar thermal power, although it still represents a fairly nascent market, also continues to expand as installed capacity increased by 36% in 2013 compared to 2012. In addition to meeting energy demand in an increasingly cost-effective manner, solar deployment can also support critical economic, social, and environmental development goals (Flavin and Hull Aeck, n.d.).
Despite significant growth of solar markets in many countries, barriers to solar deployment still exist. Common critical barriers (Brown and Muller 2011; REN21 2014; and DOE 2014) include:
Lack of consistent policy signals, which can create uncertainty in markets
Restrictive and time-consuming regulatory and permitting processes
Technical or infrastructural grid integration challenges
Concerns of utilities related to integration of distributed or variable power in the grid
Higher cost of solar technologies (real or perceived), especially in relation to fossil fuel subsidies
Lack of affordable financing
Need for skilled labor to support solar technology deployment, including system design, installation, and ongoing operation and maintenance.
The following summarizes the good practices and considerations presented in Policies to Support Solar Power Deployment.
Policies and Good Practices
Renewable Electricity Standards and Solar Set-asides
Sending incremental and consistent policy signals to encourage gradual increases in solar deployment
Setting appropriate and declining alternative compliance payment (ACP) rates
Designing solar-specific RECs to meet solar set-aside requirement
Establishing net metering and interconnection standards to complement solar RES; scaling up solar deployment requires development of multi-faceted policy packages
Considering project size, location, and land use.
Feed-in Tariffs
Linking solar FITs to high-level solar targets and a strong policy framework
Predictably and gradually decreasing solar FIT prices
Understanding the benefits and value of solar
Considering linkages with other policies.
Auctions/Tendering Processes
Considering project size
Minimizing policy costs through effective design
Facilitating participation through providing transparent, timely, and consistent information
Ensuring developer experience and technical capability.
Net Metering
Ensuring inclusive eligibility
Setting appropriate capacity limits
Designing appropriate billing approaches
Considering aggregate net metering approaches.
Interconnection Standards
Designing a standardized interconnection policy
Ensuring comprehensive policy coverage
Setting appropriate capacity limits
Reducing administrative and application costs.
Solar Investment and Production Tax Credits
Establishing an appropriate incentive rate and controlling costs
Determining the tax incentive period
Considering other incentives for self-generation and smaller-scale systems.
Additional Approaches to Support Private Investment
Demonstrating projects
Reducing risk
Reducing soft costs
Training lending institutions.
See Also
Solar Power Policies in Action
The following country examples provide real-world experiences and lessons learned from developing and implementing policies for enabling solar power.